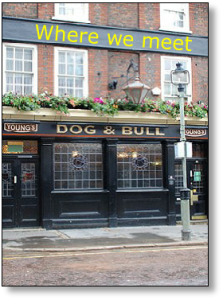 The CMC meet on the 2nd & 4th Wednesday of every month in the upstairs function room in the Dog & Bull 24 Surrey Street, Croydon, Surrey, CR0 1RG. See below for location map.
In the summer months of June, July and August we don't hire the function room and typically congregate in the rear garden (weather permitting) or the downstairs bar area. 
Unless indicated otherwise, indoor meets including talks, lectures, DVD showings, quizzes etc. will start at 8.00 PM. Meet from 7:30pm onwards.
Details of specific events are shown on our event calendar here
If you're interested in joining, come & meet us at the pub where there will be members on hand to welcome you & provide information about our activities. If possible, please contact us in advance to let them know you will be coming, to ensure you will be met & introduced.
See our Contact Us page for our email addresses.
Where are we?