The CMC's first official meet was the August Bank Holiday weekend in 1970 in North Wales. You can view a list of attendees and other historical club data here.
Our 50th anniversary thus falls in 2020 and as part of the celebrations we have arranged a dinner in the Royal Victoria Hotel in Llanberis, where many previous Annual Dinners were held.
The date will be Saturday 26th September 2020.
We celebrated the CMC's 25th Anniversary on 11th March 1995, again in the Royal Victoria Hotel. A total of 59 members and ex-members attended and a group photo (below) was taken. The names of those attending are shown but there are a dozen people we have been unable to identify. If anyone can identify these people please email
A £10 deposit will secure a place at this prestigious event. Payment either direct to our account or by cheque made payable to Croydon MC. For the account details or cheque postal address, please email
There are also plans to have a 50th anniversary expedition of the Tour du Mont Blanc in the summer of 2020. Karen Cleverly is kindly organising this – more details here.
Dinner
This is likely to be between £30 & £40 / head for a 3 course meal. Exact costs will depend on final numbers. We have booked the larger of the hotels dining rooms which has minmum number of 80 diners.
Accommodation
A discounted room rate of £100 per double/twin room per night based on bed and full breakfast is available for those attending the dinner. Note that weekend rates for 2018 were £125 per room.
The hotel have opened a group booking for 2 nights (25th & 26th Sept). The group reference no. is #65073 and guests need to quote this when booking. Credit/debit card details will be taken to secure the booking and all bookings need to be made a minimum of three months before the event in order to secure the rate. After this time they will not be able to guarantee a room or the rate.
Their standard 24-hour cancellation policy applies to all bookings and all bookings are to be made direct with the hotel www.theroyalvictoria.co.uk
We are also currently looking at various hut accommodation options in the Llanberis area eg. Chamois MC hut at Ceunant and would try and arrange transport to the hotel from there for the dinner.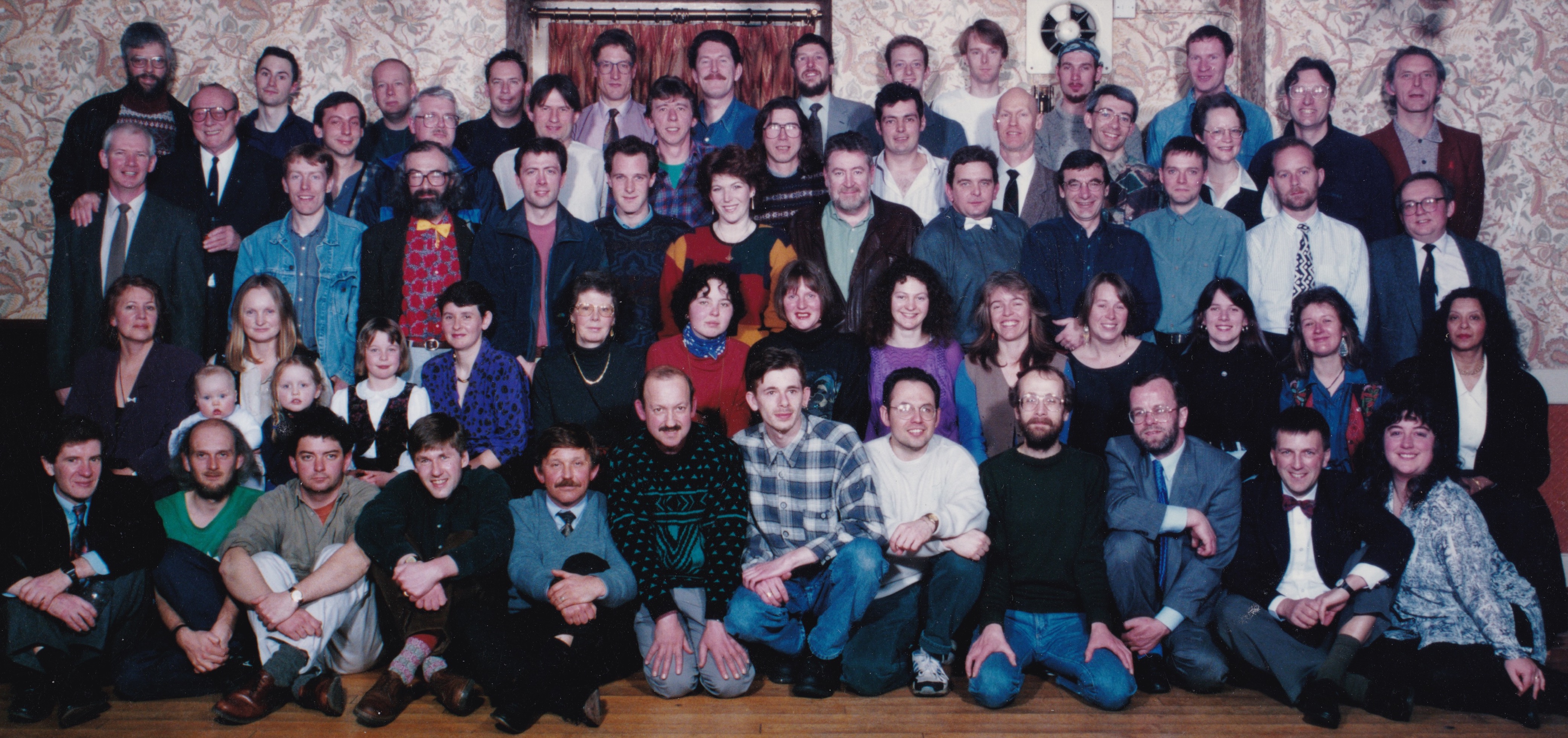 Back Row.
John Couchman, Nick Cooper, Andy Hazel, Peter Sime, Ian Inch, Dave Stoney, Ed Hicks, Alistair Mitchell, Howard Thomas, Unknown (M), Tim Field, Brent Mc Gregor, Tom Mackie.
In front of Back Row.
Eric Atkins, Will Codd, Unknown (M), Dave Corben, Keith Woodward, Barry Woodward, Gary Brown, Gordon Spence, Tim Howell, Elspeth Howell.
Middle Row.
Steve Dutton, Kevin Woodcock, Unknown (M), Dave Ballantine, Richard Howie, Unknown(F), Alistair Goodwin, Andy Lever, Steve Gillions, Lee Francis, Jerry Birtles, Terry Thomas.
Behind Front Row.
Sue Mackie, Lindy Furby + 2 children, Margaret Payne + child, Pat Hicks, Unknown(F), Rachel Griffin, Ann Shellard, Jackie Stoner, Sue Morton, Fran Lobb, Edith Fox, Fiza Couchman.
Front Row.
Bill Turner, Smudge, Nick Morton, Donal Griffin, Mick Waghorn, Alan Mason, Graham Gillions, Kev Noblett, Graham Dungate, Bob Johnston, Dave Stringer, Patsy Stringer.
Names of attendees unidentified in photo
Dave Bishop, Stuart Fife, Alan Mason, Ashley Williams(F), Sue Mackie(F), Margaret Paynes partner, Mike Waghorn, Derek O'Dell.
Can anyone put these names to the faces? If yes, please contact Bob Johnston by email